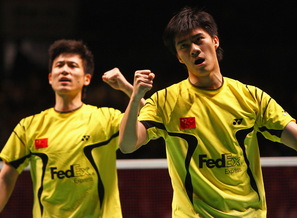 photo from: zimbio
I've just written a lens on Squidoo: a biography about badminton player Fu Haifeng – who (along with his badminton doubles partner Cai Yun) is the world men's doubles champion.
He also has the world's fastest badminton smash – 332kph (206mph), so he's a formidable player. (Note that faster smash speeds of over 400kph (250mph) have been recorded unofficially during speed tests used for promotional purposes).
I'd love some feedback about it, so please use the comment box at the bottom. And if you like it, why not rate it? Just click on the stars under the title. Thanks! 🙂
There are a few badminton doubles videos of Fu Haifeng & Cai Yun on this site. If you want to see full matches, then this site, badmintonfreak, has a list of recent badminton videos from the Chinese Masters, the World Badminton Championships, the Sudirman Cup and others. Well worth a look!
By the way, Squidoo itself is pretty cool – a

simple, free way of quickly putting a website together, without any technical knowledge, similar to blogger or wordpress.com. If you wish to create a website for the first time, it's well worth a look. Click here to sign up.